The Truth about Jane and Sam
Year
: 1999
Director
: Derek Yee Tung-Sing
Cast
: Peter Ho Yun-Tung, Fann Wong (Fan Man-Fong), Chin Kar-Lok, Simon Lui Yu-Yeung, Cheng Pei-Pei, Joe Cheung Tung-Cho, Jason Chu Wing-Tong, Michelle Wong Man
Sinopsis
:
From acclaimed director Derek Yee Tung Sing (Ce'st La Vie, Mon Cheri) comes The Truth About Jane and Sam, a modern mismatched love story. Peter Ho is Sam, an idealistic young reporter who meets wild girl Jane (Fann Wong of Shanghai Knights) while she's grifting money from middle-aged men. He decides to make her the focus of his piece on "lost youth of the nineties", and offers her $3000 to cooperate. She agrees, but the arrangement comes with unexpected results. The young man and woman are from opposite sides of the tracks, have different pasts, and wildly different futures, but somehow romance blossoms in the most unlikely way. The two find understanding and security in each other's arms, but unfortunately, the real world may end up keeping them apart.
Derek Yee breathes real, vibrant life into the characters of The Truth About Jane and Sam, and Peter Ho and Fann Wong turn in remarkable performances for Hong Kong screen newcomers. Jane and Sam find love and passion, hardship and hard choices, but can they also discover a fugure together? Co-starring Chin Ka Lok and Cheng Pei Pei.
Peter Ho and Fann Wong as Sam and Jane
credit to: yesasia.com
I stumbled upon this old movie when browsing at youtube a few days ago (thanks to the person who uploaded this). First, I just clicked one part of the total 14 parts...... and then I was tempted to see all parts till the end. I stayed till midnite to finish watching the whole parts.
I love this old movie......

for Peter ( of course....

), its storyline, song, and how the movie goes along with "zhen xin hua" parts of both characters through the scenes.
Ah Xin/Sam (Peter Ho) is from a healthy good family, he's optimistic, positive thinking, and believes in love. Ah Zhen/ Jane (Fann Wong) is from broken family, pessimistic, and distrusts love / any men. Both contradict to each other, but with
Sam's sincerity and love,
Jane gradually changes.
Frankly speaking, I don't expect that Peter could be so good in his acting since this is his 1st debut movie. But I have to say sorry to Peter

for his acting is just sooo good in portraying such an innocent, kind-hearted guy.
One thing that I can't stand is just
his hairdo
showing his long forehead. He's ugly here (sorry.. perhaps, others don't agree..

) , but somewhat he's still attractive.
Peter's using his
own voice
here (no dubbing)

, but in some lines of his speech he always used the same ending tone....and I feel a little bit troubled with it. Luckily, Peter did not do this anymore in his tv series.
In one scene: dinner with parents, Peter spoke English... and his English is sooo good

( I think we know why his English is good. He lived in Canada when he's a teenager)
I think I can say that I love
all scenes
of Peter & Fann in this movie, there's no unfavourite scenes....


There's only one kissing scene if I'm not wrong.
Last edited by on Thu Feb 14, 2008 5:51 pm; edited 1 time in total
Fang2..ur review, make me want to watch it..
This is Peter's first movie..but it not too famous, yeah? So, I think, this movie not really good...but, then u give the good comment of it...hm, maybe...i must download it too

Well, as I hv promised Fang, I'll post some screen caps on this movie for everyone to enjoy.
Here's
Part 1
...
We begin with an introduction of Lee Siew Sam, 24 (Peter) who works as a reporter for a gossip magazine called Seventh. "Lee Siew Sam" has similar pronounciation with "You'd better be careful" in Cantonese. Though the name sounds funny, Sam is no joker.
Well, can u spot Sam here???... Yeah! He's the tallest of all! Nope, it's not due to his height. He's standing on a chair!
Sam likes watching "Chungking Express". So after the movie, he goes to Chungking Building to experience the life there.
Well, this is where Jane (Fann) & Sam have an "official" introduction of themselves. It's in a washroom of a disco! After that, Sam offers some reward to Jane in order to write a coverage on her. They agree on a payment of HKD 3,000. Sam thought of paying her HKD 500 deposit, but she manages to snatch HKD 1,500 from Sam.
Here are pictures of the upset Sam when he realises that his SONY Multi System Nicam TV is missing!!!
Look, who has "borrowed" it?!?!?!
Wait! What else has she "borrowed"???... Instant noodles & detergent!!!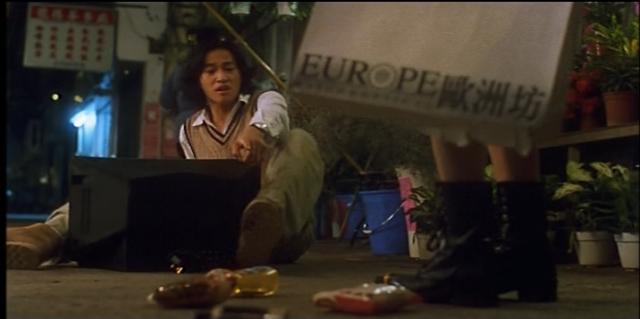 to be continued....



Posts

: 72


Join date

: 2007-11-18



thank you, tumn tumn! it's like a comic-book!




Posts

: 218


Join date

: 2007-11-08



Good job, tumn

U've made interesting caps. I laugh to read your words above the caps

yup, it's like a comic.......

banlong & fang
, glad that both of u like the Part 1.... Well, here's
Part 2
....
Sam "visits" Jane's house for the 1st time... He is shocked to see such a beautiful girl living in such a shabby place. Wanna have a look at Jane's house? Let's go!
Sam feels pity for Jane, so he wants to sponsor Jane with some food. Anyone wants a treat???... Go look for Sam!!!! He's not only handsome but rich & generous....

Look! Jane just simply tosses away her ice-cream tub's cover & leave it to Sam to do the clean-up!
Hey! The sweets aren't paid yet! Notty Jane!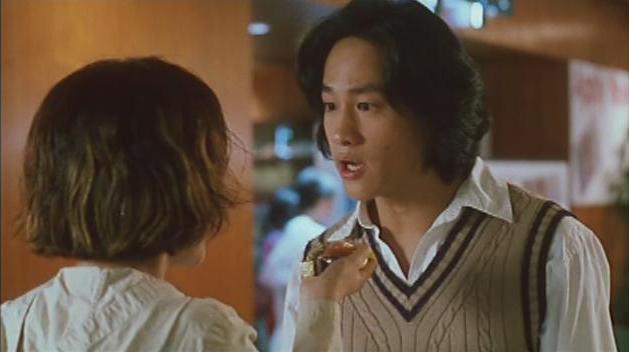 What a sweet Sam.... Bringing back the things not paid to the cashier. Let's give an applause to this cute guy!!!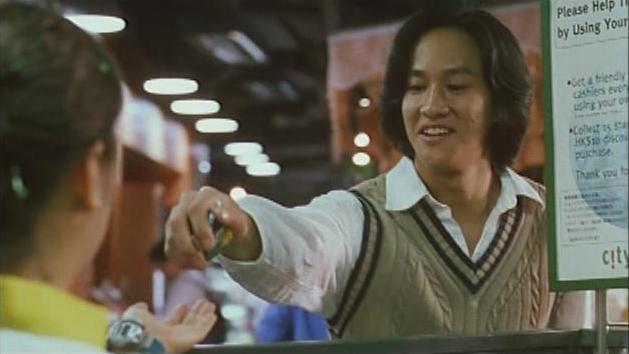 Sam starts doing the house chores for the lazy Jane. Handsome maid for hire, anyone interested??
The next day, Sam starts following Jane wherever she goes, from the arcade to cinema to idling on the street...
The punctual "maid" comes again the next day. Have u seen anyone eating rice with "coke" soup?... Well, Sam's amazed to see it for the 1st time too!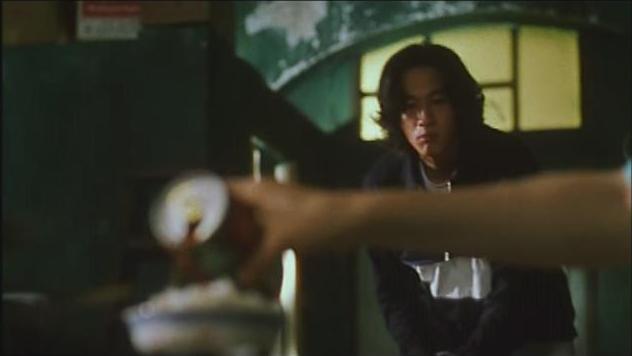 More to come...



Posts

: 72


Join date

: 2007-11-18




tumn tumn, u crack me up!!
a handsome & nice maid..... hahaha of course, I'm interested in.

Which girl won't fell for a nice guy like Sam ?? Jane is so fortunate to meet such a good guy.
Oh yes, I remember that Peter likes to read a comic together with friend.
Now I feel like that we're also reading 'Sam & Jane' comic
together
and enjoy it more !!
i watch this film, i like it
happy ending

sam really good guy



Posts

: 22


Join date

: 2008-06-25


Location

: Australia



hi tumn tumn..really enjoy ur caps..like read a comic..he3x! more girls...luv u


---
Permissions in this forum:
You
cannot
reply to topics in this forum