Peter Ho Thrilled to Work with Chow Yunfat
By Chew Wan Ying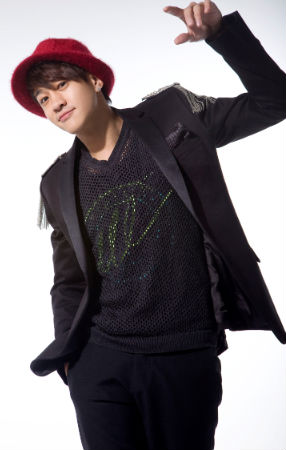 Peter Hoís latest project means a lot for him, not just because itís a big-budget 3D blockbuster.
The Taiwanese star is also realising his lifelong dream of sharing the screen with his childhood idol Chow Yun-fat. The Monkey King, a fantasy epic produced by Filmko Entertainment and based on the familiar tale of Journey to the West, stars an array of A-list stars that includes Chow, Ho, Donnie Yen, Aaron Kwok, Cecilia Cheung, Gigi Leung and Kelly Chen. "Chow Yun Fat has been my idol since I was a kid. After the cast is revealed, a lot of people have called me, not because they miss me, but because they want to find out about Chow!" said Ho in a phone interview with the Malaysian press recently.
Shooting for the RMB4-billion (RM1.87 billion) picture will begin next month. Ho, 35, plays Erlang Shen, the god with a third eye on his forehead. The god - which also appeared in ancient fantasy novel Fengshen Bang (The Creation of the Gods) - is usually depicted as a serious, by-the-book kind of character in various screen adaptations. Expect Hoís version to be different, as he wants to "inject more human elements into the character." Apart from devouring piles of reading materials on his character, Ho has been buffing up through cardio training.
ďWith Donnie (who plays the title character), expect the fight scenes to be awesome,Ē said Ho in Cantonese. It is apparent that the American-born star is a fitness freak. Apart from playing basketball or video games with fellow celebrity Dylan Kuo, he can mostly be seen hitting the gym. "Itís all down to determination. Whenever Iím in a hotel, the first thing I do is checking out the gym. I make sure I work out four times a week. No matter how busy I am, I will squeeze in time for that," he said.
Next month, the actor will take time off his filming schedule to fly to Malaysia.
"I can take a breather from all the fighting and enjoy Bat Kut Teh," he joked. Ho is one of the headlining acts for ntv7ís annual Star Live Concert on Dec 18. Other stars that are slated to perform on the night are Landy Wen, Della Ding Dang, JJ Lin, MC Lin, Hanjin, AK as well as our very own Thomas Jack, Vchuan, Will Ng and Wu Jia Hui.
This yearís Summerís Desire saw Ho becoming a producer for the first time. The Taiwanese idol drama, starring Barbie Hsu, Huang Xiaoming and Ho himself, is a hit in the Chinese community. Spurred on by the overwhelming response, the first-time producer said he would love to produce more television series or even films in the future. "However, I have to take a rest first. Being a producer is too taxing. Itís 20 to 30 times harder than being an actor. You have to find the script, the filming locations and the actors."
"You have to be involved in the editing process, negotiate with people and have a lot of meetings," said Ho, adding that he hopes to produce "an artistic film with commercial elements".
With a packed schedule like that, we wonder whether he has time for love?
"I have no love life now. Right now itís not a priority for me. I have too many things on my plate," he said.
While he is attracted to girls who are filial and patient, he said he does not really spot any potential candidate around.
"Otherwise I would already be married by now," he said with a laugh.
The subject on love brings to mind the recent romance between Wang Xiaofei and Hsu Ė the latter was at one point romantically linked to Ho. The chirpy lad sent his blessings to the lovebirds, who recently registered their marriage in Beijing.
"She was injured at the set (of Summerís Desire). Now itís good that she finally found someone to take care of her. I am really happy for her."
*Star Live Concert will be held at Carpark A, Bukit Jalil Stadium at 8.30pm on Dec 18.
Published Nov 19 2010
credit: http://210.5.43.242/buzz/7813-peter-ho-on-starring-in-3d-monkey-king



Posts

: 537


Join date

: 2007-10-21


Location

: Indonesia, Surabaya




---
Permissions in this forum:
You
cannot
reply to topics in this forum