Young and Dangerous Part 6
Year
2000
Director
Wai Keung Lau
Cast
Ekin Cheng, Jordan Chan, Sonny Chiba, Qi Shu, Peter Ho
Sinopsis
Shan Ji is entrusted with an important task by the Sanlian Gang. In order to unite the Sanlian Gang and the Japanese Shantian Gang , Shan Ji marries Yi Caicaizi, who is the daughter of Shantian Gang's leader Yi Yixong. Shan Ji comes to Hong Kong from Tai Wan specially to invite Haonan and Baopi to his wedding. Haonan and Baopi go to japan to attend Shan Ji's wedding , there they pick up with Lei Fuhong (Peter) , who is the son of Sanlian Gang's dead leader.
Lei Fuhong persues MBA in US and has no intention to follow his father's footsteps. Lei Fuhong has a mind to give his position to Shan Ji. But the deputy of Sanlian Gang , Uncle Zhongyong , opposes Shan Ji and upholds Lei Fuhong. Disagreement arises between Shan Ji and Uncle Zhongyong. Just at this time, Lei Fuhong is attacked and injured. Shan Ji is suspected to be the planner by Sanlian Gang. Before long disorder arises about the question of the gang being used by government. Uncle Zhongyong sets his face against it. Then Shan Ji is attacked and injured seriously, his wife Yi Caicaizi is raped……
Shan Ji loses power and has to hide with his wife. Haonan gets the bad newsand goes to Tai Wan to meet Lei Fuhong. Lei Fuhong indicates that the position of the leader must belong to Uncle Zhongyong for the sake of the unity of Sanlian Gang. After their negotiation , Uncle Zhongyong is assassinated , Shan Ji is pegged as a traitor. Shocked at the sudden change, Yi Yixong comes to Tai Wan to find the truth. He decides to help Shan Ji with Haonan. A bloody battle is going to start in Tai Wan……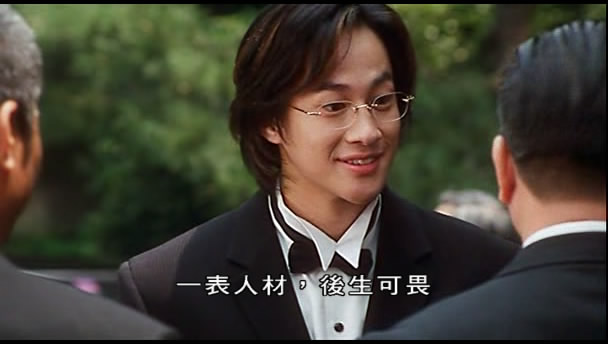 Last edited by banlong on Wed Feb 20, 2008 10:29 pm; edited 2 times in total



Posts

: 218


Join date

: 2007-11-08



One more info about movie where we can see Peter.
banlong
, thanks....

Wow, Peter looks so handsome in a tuxedo

(the cap above!)
I haven't seen this movie yet since gangster / mafia theme is not my fave.
Some time ago, my friends (yessy, lundi) told me that Peter roled in Born to be King. They like Peter's role here though he is a bad guy.

They also informed the fight scene between Ekin and Peter on the car was cool. Lundi once gave me you tube link where I could see this fight scene. Yup, they fought so fiercely. Peter was so strong....




Posts

: 537


Join date

: 2007-10-21


Location

: Indonesia, Surabaya



http://v.youku.com/v_show/id_cc00XMTYyMjY1NTY=.html

http://www.le51.cn/play.asp?id=9539&m=&n=1&u=1&v=1
Last edited by banlong on Tue Feb 19, 2008 10:33 pm; edited 1 time in total



Posts

: 218


Join date

: 2007-11-08



some caps from my friend in Thai



Posts

: 132


Join date

: 2007-11-02




---
Permissions in this forum:
You
cannot
reply to topics in this forum