LOVE OF THE AEGEAN SEA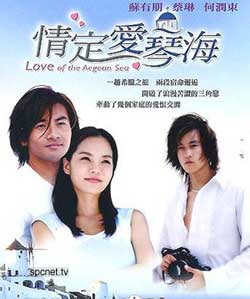 DETAILS
Title: 情定愛琴海 / Qing Ding Ai Qin Hai
Also known as: Love at (the) Aegean Sea, Love of the Aegean Sea, Romance at Aegean Sea, Aegean Sea
Episodes: 40
Broadcast network: CTS
Broadcast year: 2004
Theme songs:
Opening song: Bo La Tu De Yong Heng (Plato's Eternity) by Alec Su and Li Fang
Ending song: Ni Shi Wo De Yi Di Lei (You're A Drop of My Tears) by Alec Su
Insert songs: Hai Di Liang Wan Mi (by Li Fang), Ai Qing Hai (by Alec Su), Ni De Ai Gei Le Shui (by Ling Dian Yue Dui)
Trivia : The scenes filmed in Greece are in Santorini; Chae Rim the Korean actress' voice is dubbed
Director: Lu Jiang
Screenwriter: Chen Qionghua
External Links :
GB (http://ent.sina.com.cn/v/f/qdaqh/index.html)/Sina site (http://china.sina.com.tw/ent/v/f/qdaqh/))
ETTV site (http://www.ettoday.com/ettv_drama/events/love_sea/) (Chinese)
Review (http://www.spcnet.tv/reviews/review.php?rID=771) (spcnet.tv)
SYNOPSIS
Beautifully filmed at Aegean Sea with lovely music, this romantic drama series with an all star-cast from Taiwan and Korea is a must-watch.
Guan Xiaotong (Chae Rim) is a talented music student who hails from Shanghai. On a visit to Greece on the Aegean Sea, she got to know two guys. One is web-friend and free-spirited traveller Li Yaoxiang (Peter Ho) and another is the son of a rich businessman Lu Enqi (Alec Su) who lives a sheltered, controlled and lonely life under the watchful eyes of his parents. They want to matchmake him with a rich man's daughter, to the dismay of Enqi.
Xiaotong's friendship with the two men blossoms. But there can only be one love for her…who will she choose?
Source: MediaCorp TV
CAST
Alec Su as Lu Enqi

Chae Rim as Guan Xiaotong
Peter Ho as Li Yaoxiang

Bao Yi Lin as Lian Yiqian

Chen Zi Ying as Hui Wen (Xiaotong's cousin)
Fu Yi Wei as Zhou Meiling (Enqi's mom)
Shi Da Sheng as Lu Liangping (Enqi's dad)
Li Yu as Xiao San (Yaoxiang's foster bro)
Zhao Liang as Yaoxiang's dad
SCENES
credits to: wiki.d-addicts, spcnet.tv, ent.sina



Posts

: 537


Join date

: 2007-10-21


Location

: Indonesia, Surabaya






Posts

: 43


Join date

: 2007-11-03


Age

: 27


Location

: Vietnam






Posts

: 43


Join date

: 2007-11-03


Age

: 27


Location

: Vietnam



posted by kristin_nguyen on 4 Nov '07 at 10:30 am. Thanksss, gal!!


this post's been moved here by fang2 on 5 Mon at 8:08 am



Posts

: 537


Join date

: 2007-10-21


Location

: Indonesia, Surabaya






Posts

: 43


Join date

: 2007-11-12


Age

: 28


Location

: Singapore




---
Permissions in this forum:
You
cannot
reply to topics in this forum